With fresh and contrasting flavors in one dish, spicy aloo baingan is one tasty side for your flatbreads and rice. This semi-dry vegetable dish made with eggplant and potato is a quick and effortless option for weekday meals as well as the lunch box. Unassuming yet delectable, plant based Indian sides usually feature one star vegetable. They also follow standard cooking techniques that include a simple tempering, a ground and spiced up paste, or a base gravy.
This dish is cooked in much the same way but is unique in the use of two vegetables — one of which (eggplant) has a distinct taste of its own.
Add a dal or raita to your menu along with your aloo baingan masala, and you have a satiating and flavorsome meal ready for the family.
About Aloo Baingan
Aloo Baingan is a delicious Indian sabji (vegetable dish) made with diced potatoes and eggplant that have been simmered in a spiced onion tomato masala. You can make it dry or cook it into a gravy.
Potato is a versatile tuber that adapts flavors from different ingredients and complements other vegetables in a particular dish. No wonder this vegetable is a popular ingredient found in many Indian sides.
Eggplant or brinjal, on the other hand, has a strong and distinctive savor. When you combine the two together and immerse them in a spiced and tangy gravy, you have an exciting dish that screams succulent.
You'll find numerable versions of aloo baingan including regional and family variations. Many families have a signature style of using spices, herbs and aromatics for the masala as do home cooks from different parts of the country.
Want a secret tip on the best way to enjoy your aloo baingan?
Save some for the next day and serve it hot. The flavors intensify in the fridge overnight to create an unbeatable mouth feel.
For more Potato recipes, you may like to check
Aloo matar
Aloo methi
Dum aloo
Potato curry
My Recipe
My aloo baingan recipe is inspired by this aloo gobi which I shared a few years ago. This simple and tasty option for everyday meals comes together rather quickly. You don't need a long list of ingredients other than the standard tempering and spices.
You can make this either a aloo baingan sabji (dry curry) or a gravy dish following the same recipe.
This time I used bottled tomato puree but I usually make it with fresh pureed tomatoes and it works the same way. But the bottled puree has a deeper flavor so use whatever you have on had.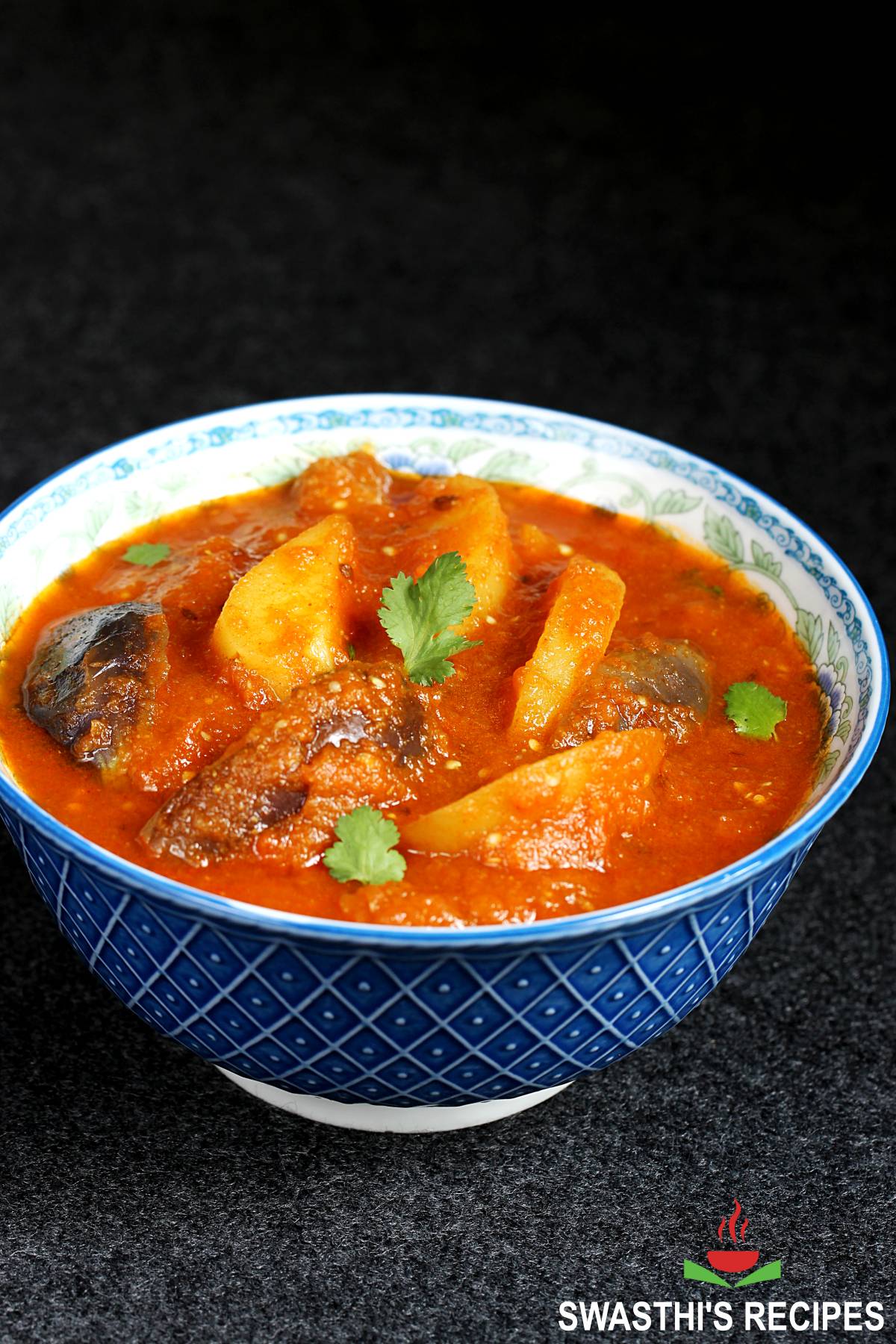 I have a couple of suggestions to help you get the texture right and make a perfectly cooked aloo baingan.
Pro Tips
First off — cube the potato and eggplant into uniform, medium sized pieces. How does this help? The vegetables cook evenly and faster.
And don't forget to soak chopped potatoes and eggplant in water until you're ready to use them. The reason for this is simple – to prevent oxidization.
You've probably noticed apple slices turning brown when left uncovered and exposed to the elements. The same process occurs in certain vegetables, especially tubers. Soaking eggplants in water, especially salted water, prevents them from darkening.
It's time for the last and the most important tip – cook the potatoes before you add the eggplant. The root vegetable takes longer to cook on the stovetop.
When you add both to the pan at the same time, you risk ending up with either an unevenly cooked or a mushy and overcooked dish.
Now that you've got the method pat down, let get cooking!
More Brinjal recipes
Stuffed brinjal fry
Brinjal curry
Bagara baingan
Vangi bath
How To Make Aloo Baingan (Stepwise Photos)
Prep the vegetables
1.Peel 250gms (2-3 medium) of potatoes. Chop these lengthwise and ½-inch thick. Keep the slices immersed in the water until ready to cook.
2. Rinse 250gms of eggplant (use 3-4 small eggplants or a medium one). Slice the eggplants lengthwise too, but with 1-inch thickness. Add the slices to the salted water.
3. Prep the other ingredients. Make the tomato puree by grinding 2 medium tomatoes (150gms of chopped tomatoes) in a blender or grinder. Chop the 110 to 120 grams onions (1 large, 1 cup chopped) and keep the spices ready. Mince 3 cloves of garlic and ½-inch of ginger if you've run out of the paste. We will need ½ tbsp. (1 ½ teaspoon paste)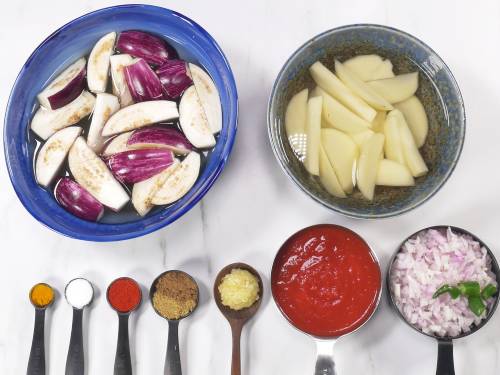 Cook the potatoes and eggplants
4. Add 2 tablespoons of oil to a pan on high heat. Reduce the heat to low and add ½ to ¾ teaspoon of jeera/cumin seeds. Stir to prevent the seeds from burning.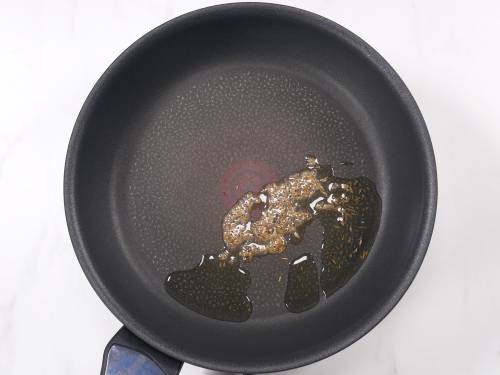 5. When the cumin seeds start spluttering and sizzling, add 1 chopped green chili. Stir well to combine. Skip the chili if you want a dish with low pungency and heat levels.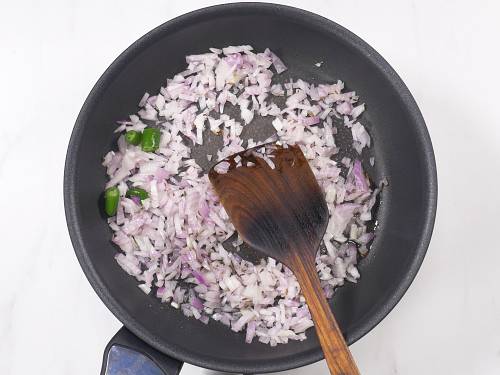 6. Add 1 cup of chopped onion and sauté for 2-3 minutes until it turns translucent. Add ½ tablespoon of ginger garlic paste. Sauté for 1-2 minutes and be careful not to burn it.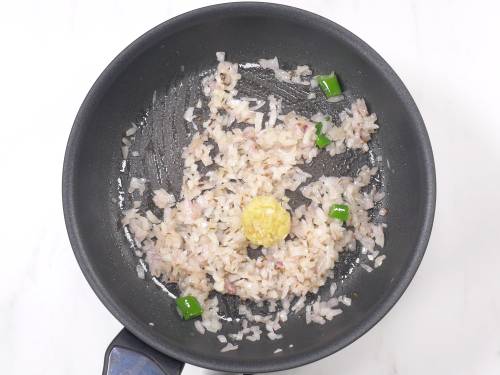 7. Remove the potatoes from the water and add to the pan. Mix to combine with the aromatics. Stir fry the potato slices on medium high flame for 2 to 3 minutes, until they turn slightly transparent. If you prefer mushy eggplants you may add them now but I prefer to add later.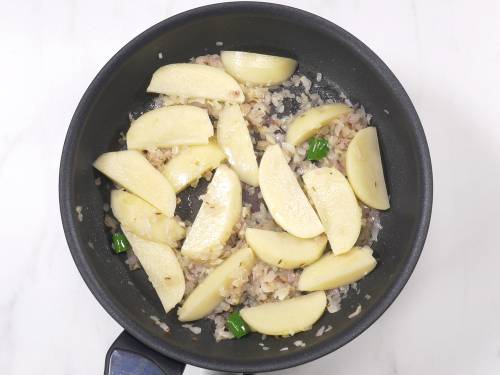 8. Reduce the heat to medium, cover with a lid and sauté them until half cooked. The slices should be tender to touch but still a bit firm and undercooked.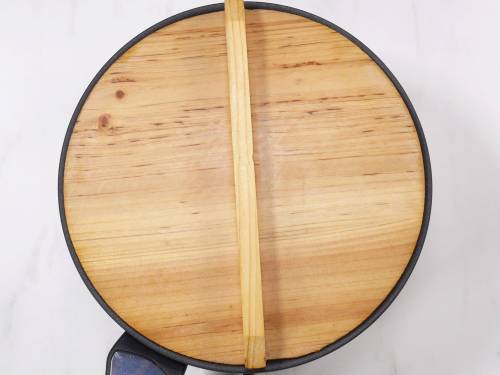 9. Remove the eggplant slices from the salted water and add them to the pan. Stir fry again for 2 to 3 minutes until eggplant skins begin to change color or sear a little.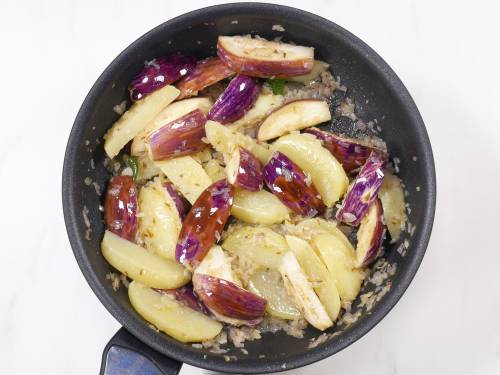 10. Cover with the lid again, lower the heat and cook the vegetables on low heat. The potatoes should be well-cooked and tender but not mushy. Stir frequently to ensure the food doesn't stick to the bottom.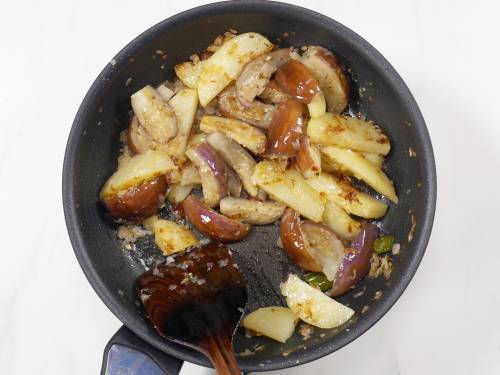 11. Make the semi-dry vegetable or gravy
When the eggplant and potatoes have cooked fully, it's time to add the spices. Sprinkle
½ to ¾ teaspoon of salt
⅛ teaspoon of turmeric
¾ to 1 teaspoon of chili powder
1 to 1¼ teaspoon of garam masala
1 to 1½ teaspoon of coriander powder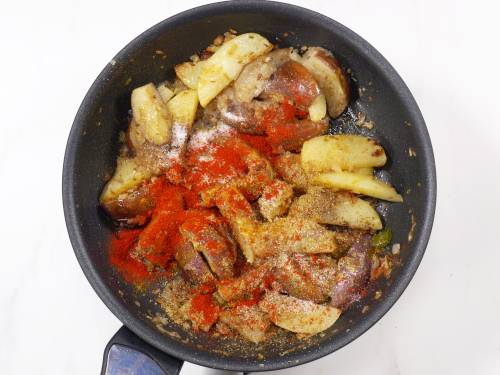 12. Mix well to combine and sauté for 1 to 2 minutes. Taste and adjust seasonings as required. Add or reduce the quantity of spices according to your preference.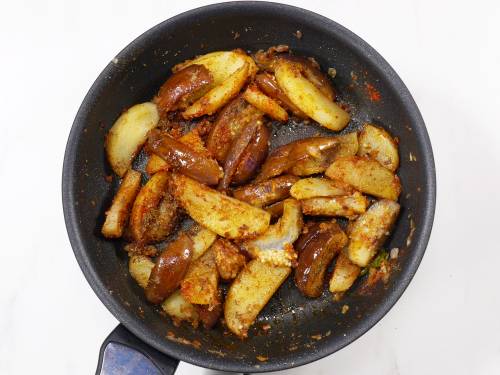 13. After the spices have blended well with the vegetables, increase the heat to medium. Add ¾ cup of tomato puree to the pan and stir well to combine.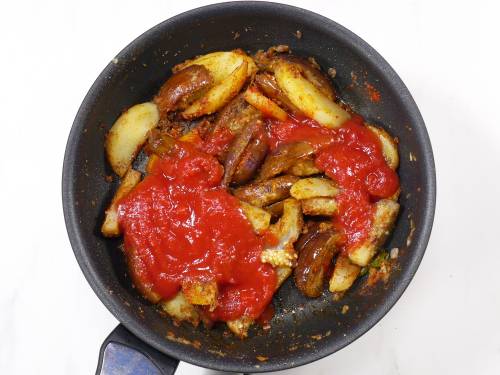 14. Cook the aloo baingan until the raw smell from tomatoes is removed. The masala will thicken up and stick to the vegetables.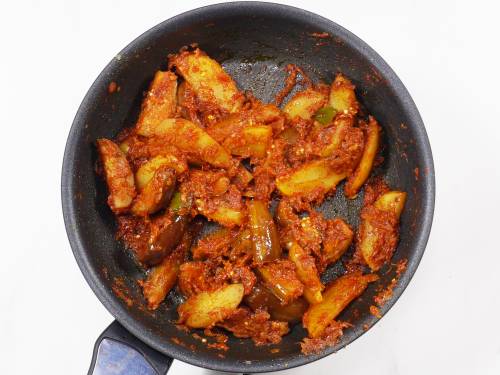 15. Continue cooking this as a semi-dry dish by adding ¼ cup of water. [If you want to transform it into a gravy or curry, add 1¼ cups of hot water. Stir well to let the ingredients mix together & simmer until the curry turns thick.]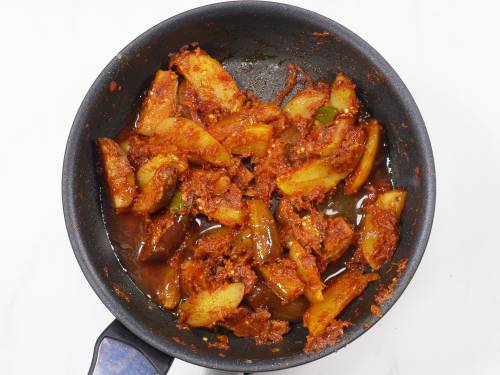 16. Taste test and add more salt if required. Simmer uncovered on low heat for a few minutes to let the flavors blend and the curry to thicken up.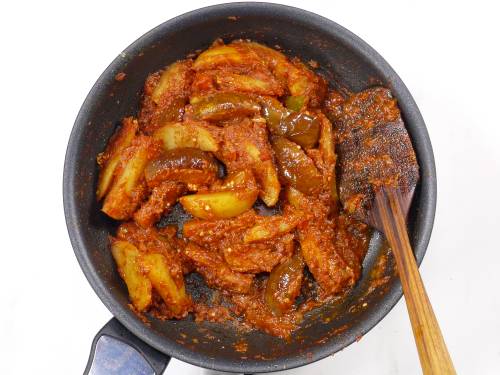 Remove from heat and garnish with 1 tablespoon of finely chopped coriander leaves. Serve hot with roti, paratha, chapati, pulao or other mixed rice dishes.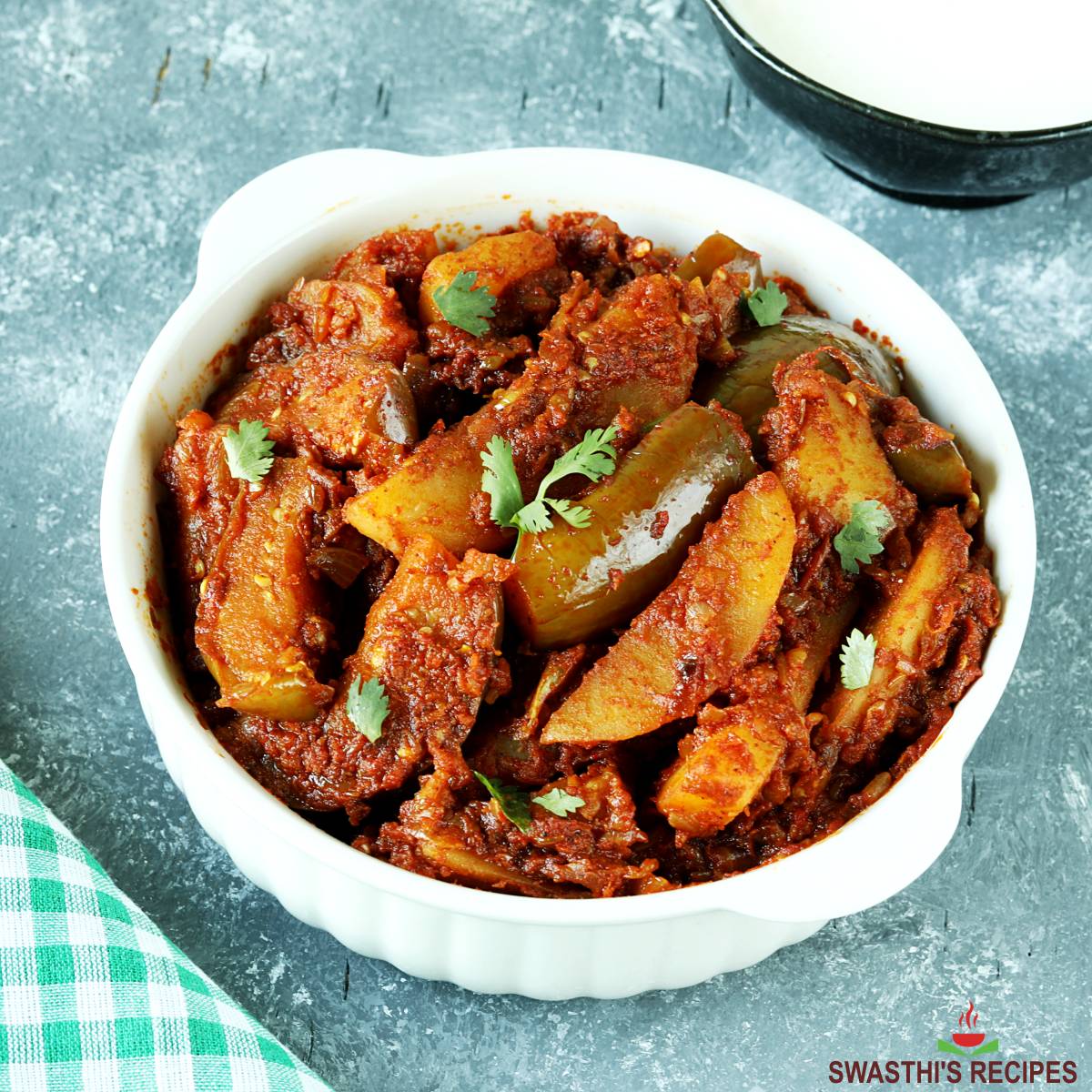 Related Recipes
Recipe Card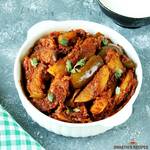 Aloo Baingan Recipe | Potato Eggplant Sabzi
Aloo baingan sabji is a delicious dish of potatoes and eggplants cooked in a spicy onion tomato masala.
Pin Recipe
Print Recipe
Prevent your screen from going dark
For best results follow the step-by-step photos above the recipe card
Ingredients (US cup = 240ml )
Alternative quantities provided in the recipe card are for 1x only, original recipe.
For best results follow my detailed step-by-step photo instructions and tips above the recipe card.
NUTRITION INFO (estimation only)
Nutrition Facts
Aloo Baingan Recipe | Potato Eggplant Sabzi
Amount Per Serving
Calories 166
Calories from Fat 90
% Daily Value*
Fat 10g15%
Saturated Fat 1g6%
Trans Fat 1g
Polyunsaturated Fat 3g
Monounsaturated Fat 6g
Sodium 477mg21%
Potassium 612mg17%
Carbohydrates 18g6%
Fiber 6g25%
Sugar 9g10%
Protein 3g6%
Vitamin A 556IU11%
Vitamin C 19mg23%
Calcium 46mg5%
Iron 2mg11%
* Percent Daily Values are based on a 2000 calorie diet.
Aloo baingan recipe first published in April 2016. Updated and republished in July 2021.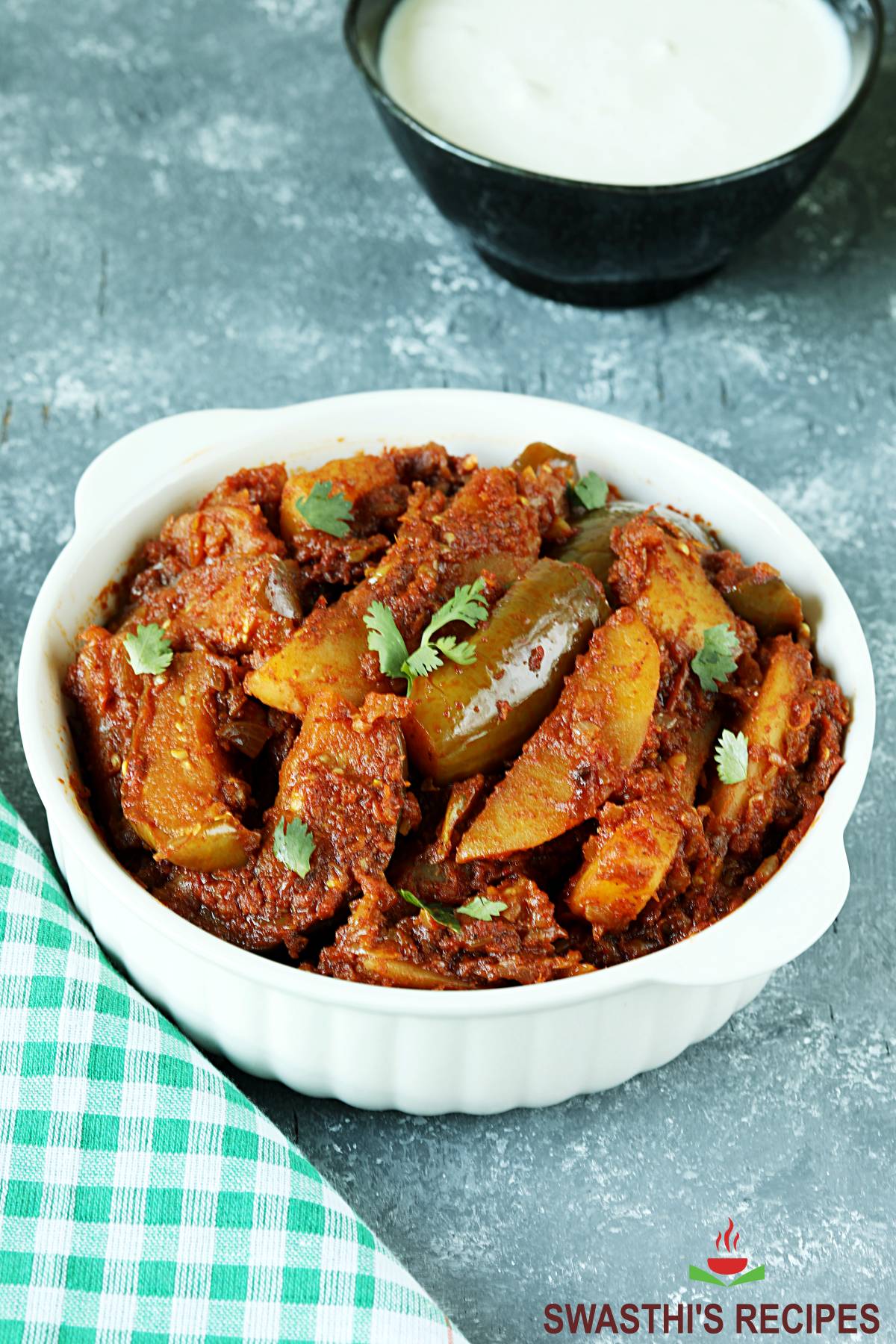 Enjoy Best Vegan Recipes, through our blog with a list of best Vegan Dinners, Vegan Breakfast,Vegetable Curry, Vegan Food Prep and much more, Get The Best of the Web with healthy vegan recipes.

More info about this Vegan Recipe, click here.