Christmas isn't Christmas without cookies, and these Vegan Gingerbread Cookies are sure to get you into the holiday spirit. They're full of spice and everything nice: coconut oil, molasses, and even apple cider.
When I was little my dad would take me to a kid's Christmas market every year. To me, it was pure magic. Under the twinkling lights we'd assemble and decorate Gingerbread houses, and take home loads of holiday goodies. Whenever I see a Gingerbread Man I think of those daddy daughter trips, and for that reason these have always been my favorite seasonal cookies.
These vegan Gingerbread cookies are great for making and enjoying with the people you love the most. I hope you have a wonderful holiday!!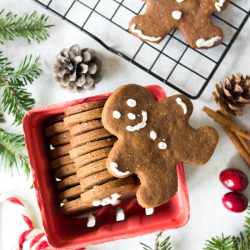 Vegan Gingerbread Cookies
Jenné
Ingredients
1/2

cup

+ 2 tbsp coconut oil

hard firm, but not hard or vegan butter

1/4

cup

white sugar

1/3

cup

brown sugar

2

cups

all-purpose flour

1/2

tsp

cinnamon

1/2

tsp

nutmeg

1/4

tsp

cloves

1/4

tsp

allspice

1 1/2

teaspoons

ground ginger

1/4

tsp

black pepper

1/2

teaspoon

baking soda

1/2

teaspoon

baking powder

1/2

teaspoon

salt

1/4

cup

molasses

1/4

cup

apple cider or plain soy milk
Icing
1

cup

powdered sugar

1

tbsp

soy milk

or other non-dairy milk

1

tsp

vegan butter or coconut oil

softened
Instructions
Preheat oven to 350° and line 2-3 baking sheets with parchment paper or a silicon baking mat. You may have to bake the cookies in batches if you cannot fit them all onto the baking sheets you have.

In a mixing bowl combine the flour, spices, baking soda, baking powder, and salt. Whisk well to combine.

Place the coconut oil into a standing mixer, and beat until fluffy.

Pour in the white and brown sugar, and continue to beat until it is all combined.

Add the molasses into the coconut mixture, then after a few whisks slowly add the apple cider. At this point if you are using cold cider you will see the texture of the wet ingredients change. That's totally fine.

Slowly add the dry ingredients into the wet, and stir. For this you can use a wooden spoon or change the paddle on your mixer.

Once combined, remove the dough and form it into a 1-inch thick disk. Wrap in plastic wrap or parchment paper, and place it in the fridge to set for at least 30 minutes.

While it is setting make your icing (recipe below).

Allow the dough to soften on the counter for at least 10 minutes before rolling it out.

Flour a clean workspace and rolling pin and roll the dough to about 1/4-inch.

Use gingerbread man cooke cutter shapes to cut the dough, and place the cookies onto the lined baking sheet. The cookies should be at least 1 inch away from each other on the sheet.

Continue with the rest of the dough.

Bake cookies for 10 minutes.

Allow them to cool on the baking sheet for 5-10 minutes, then transfer them to a cooling rack to cool completely.

Once they are completely cool ice the cookies. The icing will harden after about 20 minutes, then they can be stacked if necessary.

I enjoy my Gingerbread Men with a foamy soy cappuccino or strong black tea. They're also delicious with a cup of homemade nut milk or turmeric latte.
3.5.3217




Enjoy Best Vegan Recipes, through our blog with a list of best Vegan Dinners, Vegan Breakfast,Vegetable Curry, Vegan Food Prep and much more, Get The Best of the Web with healthy vegan recipes.

More info about this Vegan Recipe, click here.