It's a new week, let's start strong! I love to start my day with a protein-rich savory vegan breakfast, and this tofu scramble is my favorite. I learned my technique for tofu scramble from the Tofu God, my dad. He's been making a bomb tofu scramble for as long as I can remember. And he taught me how to turn bland boring tofu into a dish worthy of seconds, and even thirds.
Vegan Tofu Scrambled Eggs
If you've never had tofu scramble, think of it like vegan scrambled eggs. It's just as easy to make, full of protein, and super delicious. Even better, no chickens were harmed to make it!
The key to a delicious tofu scramble is to spice it well. Tofu has no flavor on it's own, so it's essential to use a variety of spices to flavor your tofu scramble. It needs plenty of salt, and nutritional yeast and a dash of turmeric. To give tofu scramble an eggy flavor I've started using kala namak, also known as black salt, which is high in sulfur and has a, dare I say, rotten egg smell. Trust me though, it makes a delicious tofu scramble. The stinky smell blends right into the scramble, and makes it smell and taste more like scrambled eggs.
How to Make Tofu Scramble
I always start my tofu scramble by sautéing aromatics––onion and garlic––with red bell pepper. If you're in a hurry you can always skip this part, but I wouldn't recommend it because these veggies serve as the base for the scramble and give it so much flavor. When I'm in a hurry, I use my food processor to mince the veggies, which cuts 5-10 minutes off my prep time. Mushrooms, which I'll get to next, can also be sliced in the food processor.
To make a simple easy tofu scramble you really only need the tofu and spices. It's still filling and tasty, but it's not going to be the best tofu scramble ever. No, for the best tofu scramble you're going to need to add just a few more ingredients: mushrooms and vegan sausage. Mushrooms are a must because they add so much extra flavor and savoriness to your scramble. You can use any mushrooms you like, but I especially love using a blend of shiitake and oyster mushrooms. These have a meatier texture and stronger flavor than your typical cremini mushrooms do. They also have more health benefits like anti-inflammatory and cancer fighting compounds. These mushrooms are also a good source of protein, and are high in many vitamins and minerals, like folate and zinc to name a few. Mushrooms are superfoods and should be enjoyed daily!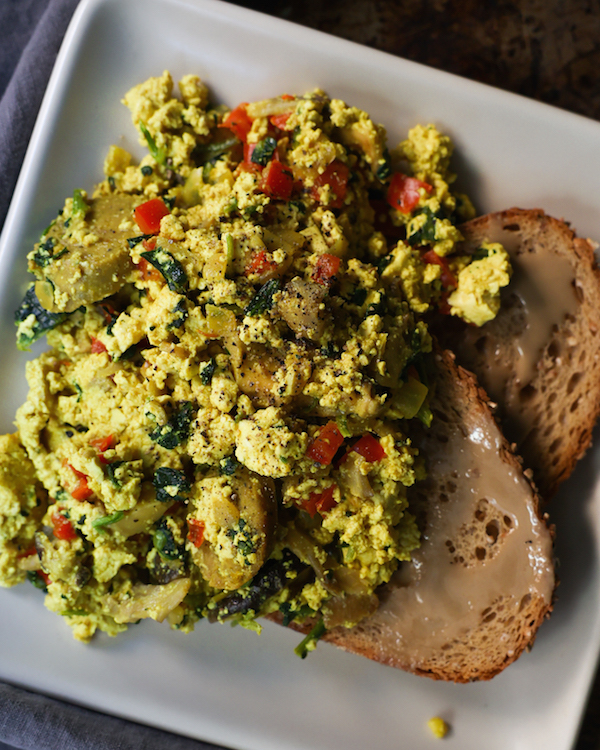 Make it even better!
Lastly, vegan sausage really takes your tofu scramble to the next level. I love the added flavor, texture, and combination of fiber and protein. I make my own vegan sausage or use a store bought one. My favorites are Field Roast breakfast sausages or Apple Sage, or Sweet Earth Green Chili Cheddar.
If you like this tofu scramble, and are in the mood for more savory breakfast recipes, check these out: Avocado Mushroom Toast, Breakfast Enchiladas and Breakfast Burrito.
The Best Tofu Scramble
Jenné
This recipe makes a lot of tofu scramble, at least 6 servings. It's perfect to make when meal planning, and stays fresh and delicious all week. Warm in the microwave or stovetop before eating.
Press the tofu before you do anything else. By the time your veggies are chopped and you've started cooking the tofu will be ready.
Ingredients
2

blocks firm tofu

pressed at least 10 minutes

2

tbsp

extra virgin olive oil

1/2

large yellow onion

diced

3

cloves

garlic

minced

1

red bell pepper

diced

3

large handfuls mushrooms

shiitake, oyster, cremini, etc (about 16oz)

2

large vegan sausages

or 6 small vegan breakfast sausages, sliced

1-2

cups

frozen spinach

or 4 cups chopped fresh spinach

3-4

tbsp

nutritional yeast

1

tsp

kala namak

black salt

1/2

tsp

turmeric powder

1/2-1

tsp

red chili flakes

salt and pepper to taste
Instructions
Warm olive oil in a large skillet, then add onions, garlic, and pepper to sauté on medium-low heat.

When the onions turn translucent add the mushrooms, and stir well. **To make the mushrooms meatier, place a heavy lid directly onto the mushrooms while they cook on medium heat.**

Add the vegan sausage and cook another 5 minutes.

Break the tofu into chunks and place them into the skillet, then use a fork to smash the tofu and create a scrambled egg texture.

Add the nutritional yeast, kala namak/black salt, turmeric, and red chili flakes, and stir well.

Add the spinach and stir again.

Cook on medium-high heat. The tofu will dry out more, and start to brown at the bottom of the skillet. Stir often and be careful not to let it burn.

Season to taste with more nutritional yeast, salt and pepper.




Enjoy Best Vegan Recipes, through our blog with a list of best Vegan Dinners, Vegan Breakfast,Vegetable Curry, Vegan Food Prep and much more, Get The Best of the Web with healthy vegan recipes.

More info about this Vegan Recipe, click here.